Fresh Autumn Pear bread
Ingredients:
8 tablespoons (1 stick) unsalted butter, softened
1 cup sugar
2 eggs, slightly beaten
1 teaspoon vanilla extract
2 cups all-purpose flour
lh teaspoon salt
1 teaspoon baking powder
1/2 teaspoon baking soda
teaspoon grated nutmeg
1A cup buttermilk or yogurt
1 cup coarsely chopped fresh ripe pears, skin left on
Preheat the oven to 350 degrees. Butter a 9-inch loaf pan.
In a large bowl, using an electric mixer, cream the butter and
sugar together until light and fluffy. Add the eggs and vanilla.
In a separate bowl, combine the flour, salt, baking powder, baking soda, and nutmeg. Add the four mixture to the butter mixture alternately with the buttermilk, mixing gently but thoroughly. Gently stir in the pears. Transfer the dough to the prepared pan. Bake for 1 hour, or until a cake tester inserted near the center comes out clean.
MAKES 1 LOAF More Than a Tea Party, Boston, MA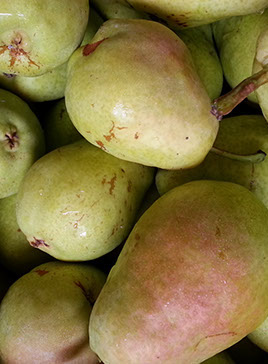 Apple Strudel
1 cup walnuts, toasted
15 vanilla cookies
5 tbsp. vanilla sugar, divided*
2 lbs. tart apples, peeled, cored and thinly sliced
2 tsp. fresh lemon juice
10 sheets frozen phyllo dough, thawed
1/3 cup butter, melted
Confectioners' sugar for garnish
Finely grind walnuts, vanilla cook¬ies with 3 tbsp. vanilla sugar in food processor. In a bowl combine apple slices, remaining vanilla sugar and lemon juice. Preheat oven to 35O°F. Cover work surface with waxed paper. Place a sheet of phyllo on waxed paper. (Cover remaining phyllo with damp kitchen towel to prevent drying.) Brush phyllo with butter (reserve about 2, tbsp.); sprinkle with 3 tbsp. walnut-cookie mixture. Lay a second sheet on top of first; continue process until all sheets and walnut mixture are used. Spread apples down the length of phyllo, 1½ " from edge. Roll up from the long edge; tuck in the ends. Place seam-side down on baking sheet; brush with remain¬ing butter. Bake 35-40 min., until golden brown. Let cool 30 min.; sprinkle with confectioners' sugar. Serves 8.
*For vanilla sugar, bury 2 vanilla beans in 1 lb. sugar in airtight container. Leave for at least a week.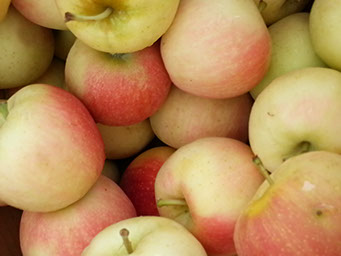 Glenda Gosh's Pear Pie
6-7 Pears (not too ripe, cored and sliced about ½ inch thick)
1 Pillsbury Pie Crust (or make your own)
1 Cup Whipping Cream
¾ Cup Sugar
1/3 Cup Flour
Whip the last three items together.
Place the pie crust in a pie pan and then layer the slices of pears in the crust (not too full).
Pour the whipped mix over the pears and sprinkle with a little cinnamon.
Bake at 350° for about an hour.
Rhubarb and Blackberries Cobbler
Ingredients:
Fresh rhubarb cut into 1/2 inch pieces-5 cups
Blackberries- 1 cup
Sugar- 1 cup
For the topping:
Flour- 1 cup
Baking powder- 1 1/2 tsp
Sugar- 1/4 cup
Salt-1/4 tsp.
Butter- 1/3 cup
Rolled oats (not instant)-1/2 cup
Milk- 2/3 cup
Granulated sugar for sprinkling (optional)-1 tbsp.
Method:
Preheat the oven to 375°
Put diced rhubarb with blackberries in a baking dish or a deep cast iron skillet and pour sugar over, stir to combine.
For the topping, mix flour, baking powder, sugar and salt. Cut in butter until the mixture is crumbly, then add oats and combine everything together, add milk and stir until just moistened. Drop spoonfuls on the rhubarb blackberry mixture leaving spaces here and there. Sprinkle with a tablespoon of sugar.
Bake uncovered for 40 minutes until the rhubarb is cooked and the top is golden and crusty. Serve warm with a dollop of ice cream.
Cherry Batter Pudding
1 pound ripe fresh cherries
2 Tablespoon Kirsch or fruit brandy or 1 Tablespoon Lemon juice
1 Tablespoon confectioners' sugar (powdered)
3 Tablespoon flour
3 Tablespoon granulated sugar
¾ Cup milk or light cream
2 eggs
Grated zest of ½ lemon
Pinch of ground nutmeg
¼ teaspoon vanilla extract
Pit the cherries, mix them with the Kirsch, brandy or lemon juice and confectioners sugar and set aside for 1-2 hours. Preheat the oven to 375°F. Generously butter an 11 inch oval gratin dish or other shallow ovenproof dish. Sift the flour into a bowl, add the sugar and slowly whisk in the milk until smoothly blended. Add the eggs, lemon zest, nutmeg and vanilla extract and whisk until well combined and smooth.
Scatter the cherries evenly in the baking dish. Pour over the batter and bake for 35-45 minutes until set and puffed around the edges. A knife inserted in the center should come out clean. Serve warm or at room temperature.
PS: If you're diabetic or dieting use the lemon juice and substitute ¼ Cup of Splenda for the sugar.